desideratum
Dec 11
[video]
Dec 09
A diagram by Jake Coolidge imagining what the BART system could look like if it, you know, actually connected all of the Bay Area.
It would at least be more comparable to the reach of the NYC and Chicago subway lines, without (somewhat unfortunately) being nearly as crazy as the Tokyo Metro.
(Source: missionmission.org)
Dec 08
[video]
Dec 02
Nov 18
U.S. Foodservice Rebrand
I really disliked the new logo until I saw this comment:
And just like that, I like this logo a little too much. "US. Wildlife Preserve" might benefit from it more though.
Nov 09
Adobe kills off (mobile) Flash -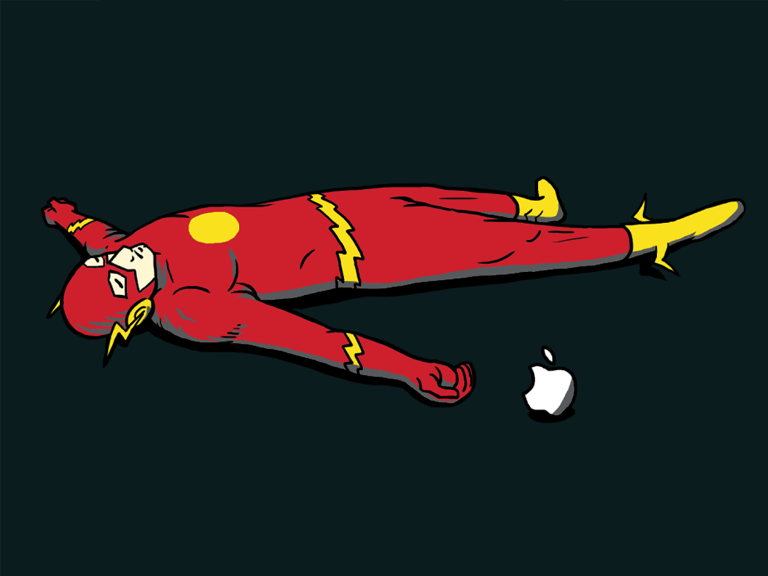 (Source: shirt.woot)
The writing was on the wall long before Adobe shifted its interactive focus to HTML5/CSS3, offering up resources like Wallaby, Edge, the expressive web and so on. Steve Jobs was prescient—and perhaps instrumental in helping Adobe realign themselves—in offering his insight into the problem:
Flash was created during the PC era – for PCs and mice. Flash is a successful business for Adobe, and we can understand why they want to push it beyond PCs. But the mobile era is about low power devices, touch interfaces and open web standards – all areas where Flash falls short. […]

New open standards created in the mobile era, such as HTML5, will win on mobile devices (and PCs too). Perhaps Adobe should focus more on creating great HTML5 tools for the future, and less on criticizing Apple for leaving the past behind.
Browser plugins like Flash became widespread because there were no native alternatives. Prior to HTML5 video and recent advancements in CSS and JS, if you wanted to put a movie or interactive elements on your webpage, you had to use Flash. And in doing so, you generally had to compromise by tolerating a shorter battery life, a louder GPU fan, a slower computer, a hotter-to-the-touch laptop, and stuttering video. Having gone Flash-free for almost a year now, I can say you only notice how much better things are after you've gone cold-turkey.
On mobile, this suboptimal performance is unacceptable; but shouldn't it be the same for desktop? To this end, Marco Arment posits:
If web developers must make non-Flash implementations of everything, why bother making the Flash versions at all? This isn't just the death of mobile Flash: it's a confirmation from Adobe that all Flash is on its way out.
I'd like to hone in on this observation by making one of my own: in hindsight, embedding Flash into a webpage has always been kind of awkward. Here's some sample code from a Flash embed, with added bolding around the most relevant bits:

<object
classid="clsid:D27CDB6E-AE6D-11cf-96B8-444553540000" 
codebase="http://download.macromedia.com
/pub/shockwave/cabs/flash/swflash.cab#version=6,0,0,0"
width="400" height="300" id="movie" align="">
    <param name="movie" value="movie.swf">
    <embed src="movie.swf" quality="high" width="400" height="300" name="movie" align="" type="application/x-shockwave-flash"
pluginspage="http://www.macromedia.com/go/getflashplayer">
</object>

Including spaces, that's 441 characters used when only 34 (the bolded characters) are necessary. It's verbose, hard to remember, and inelegant. Looking at some HTML5 equivalents, this shortcoming becomes clearer:

1<embed src="movie.swf" />

2<video src="movie.mp4" />

3<video>
    <source src="movie.mp4" />
    <source src="movie.webm" />
</video>

My point is that implementing Flash feels complicated and unnatural. It's unfortunate that developers have had to live with it for years. Thankfully, embracing HTML5 presents the perfect opportunity to leave it all behind.
[video]
Nov 05
8-BIT Vendetta — that cheating duck looks more than appropriately pissed off.
(via alexmdc and insanelygaming)
(Source: insanelygaming)